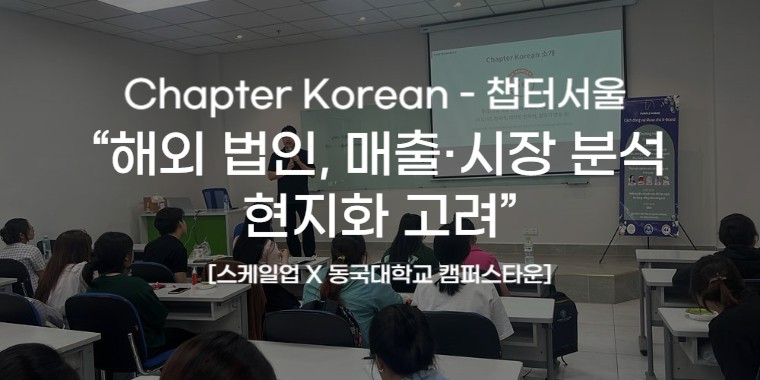 Entering the overseas Korean language education market, overseas corporation
'Chapter Seoul' operates 'Chapter Korean', a platform that teaches intermediate and advanced Korean to international students and foreigners online. They received favorable reviews from consumers thanks to their well-designed student management tools and 1:1 training system. The re-registration rate is also very high. Recently, we are preparing to enter the overseas Korean language education market.
Chapter Seoul recently received a good offer from Vietnam. They received a request to produce an education program for foreigners from a large Korean company operating in Vietnam and a request for collaboration from a Vietnamese education company. Based on this, Kim Dae-gwang, CEO of Chapter Seoul, is considering entering the Vietnamese and Southeast Asian education markets. As a partner to help him, Scale Up Korea recruited Kwon Oh-sung, CEO of Kilsa Korea.
Kilsa Korea is the Korean subsidiary of Kilsa Global. They support the overall development and operation of overseas business, including local market verification, opportunity discovery, and sales organization and network establishment, to help Korean startups and small and medium-sized companies settle in when entering Overseas Korean language education market. They have expertise in corporate relocation not only in Singapore, where their headquarters are located, but also in Southeast Asia, including Vietnam, Thailand, and Indonesia.
Overseas expansion and corporation establishment, analysis of overseas Korean language education market characteristics and demand
CEO Kim Dae-gwang: While providing B2C mid- and high-level Korean language education for a long time at Chapter Seoul, we have always felt the demand from overseas consumers. Then, when I had the opportunity, I went on a business trip to Vietnam, and received requests for Korean language training for their employees from several large Korean companies operating in Vietnam.
Local Vietnamese education companies also proposed collaboration in Korean language education. I have confirmed that there is a clear demand for intermediate and advanced level Korean language education in Southeast Asian countries, including Vietnam.
So, we made a plan to actively target the Southeast Asian market, especially Vietnam. We plan to provide middle and high-level Korean language education programs to help Vietnamese people easily get hired by Korean companies and receive better pay. I would like to know the overall process and precautions for an online education company like Chapter Seoul to enter the Vietnamese market, as well as the business operating environment in Vietnam.
CEO Kwon Oh-sung: It's a great opportunity. Among the countries in Southeast Asia, Vietnam and Thailand have the greatest demand for Korean language education. However, the purpose of receiving Korean language education is quite different. Many Korean companies, led by large corporations, have entered Vietnam. Students who want to get a job at a Korean company or a local Vietnamese company that does business with a Korean company want to learn Korean for business. There are as many as 25 Vietnamese universities that run regular Korean language departments. Vietnamese employees who are good at Korean actually get paid well.
On the other hand, Thai students have a high demand to learn Korean for entrance exam purposes because it is a second foreign language included in the public education curriculum. About 10 Thai universities also operate regular Korean language departments. Indonesian and Singaporean students also want to learn Korean, but these are mostly hobbyists who want to enjoy K content. So, if you want to enter the Korean language education market in Southeast Asia, it would be a good idea to establish yourself in Vietnam.
(article omitted)
Establishment of an overseas corporation vs partnership, selection based on country's regulatory characteristics and expected sales volume
CEO Daegwang Kim: What do I need to know when establishing a local corporation in Vietnam, or even in Southeast Asian countries? Does a startup that wants to start a B2C business like Chapter Seoul have to establish a local corporation?
CEO Kwon Oh-sung: If the sales volume generated overseas is large, it is recommended to establish a local corporation if possible. To satisfy tax and local regulatory issues. The payment tendencies of Southeast Asian countries are quite different from ours. Cash payments or transfers are still preferred over credit cards, but for this reason, you may need a local corporate bank account.
There are other advantages to having a local corporation. If you want to do business overseas, business trips and sales are essential. Sometimes we sign contracts with local companies or individuals. Even in this case, a local corporation must be established to respond smoothly. It also has the effect of conveying my company's brand and image to Overseas Korean language education market.
There are many advantages of local corporations. However, it is not omnipotent. Depending on the company's growth status and scale of business or sales, it may be better to choose a partnership with a local company rather than a local corporation. For example, if the number of local contracts is small or the sales volume is small. From the moment you create a local corporation, you must consider operational and tax issues.
(article omitted)
Entering the overseas Korean language education market, establishing a corporation, and securing talent are carried out in cooperation with local companies and institutions.
CEO Daegwang Kim: Thank you for the advice. So, assuming I set up a local corporation in Vietnam, what should I prepare? I am curious about how to determine capital and how to find talent.
CEO Kwon Oh-sung: The process itself is not very difficult. All you have to do is visit a local agency or law firm in Vietnam, obtain documents, fill out these documents faithfully, and submit them. What is more important than documents is the proposal. This is because the size of the capital is determined depending on the content of the proposal.
The Vietnamese government recognizes that when companies from other countries try to establish a corporation, they are 'conducting a project with a special purpose in Vietnam.' So, in Vietnam, there is a concept of 'implementation capital'. The implementation capital must be paid within 90 days after issuing the corporate registration certificate.
So, in order to establish a local corporation in Vietnam, you must prove to the Vietnamese government whether you have set up a capital sufficient to carry out the proposed project and whether you have the ability to pay this capital. Therefore, if you want to establish a local corporation in Vietnam, it is recommended to balance the project size, scope of work, and amount of implementation capital that suit the financial capabilities of the head office.
(The article after this is omitted)
Table of Contents, Overseas Korean language education market
Want to see the entire article?
출처 및 기사 전체 보기 (동아일보) : https://www.donga.com/news/It/article/all/20230908/121089155/1
Want to see previous articles? : Click the link.
---
[Links to other external articles]
IT동아 : https://it.donga.com/104298/
네이버 : https://n.news.naver.com/mnews/article/020/0003519631?sid=105
다음 : https://v.daum.net/v/20230908173907491
네이트 : https://news.nate.com/view/20230908n27589
---
Do you want to study Korean more? Do you want to study TOPIK 2 writing more?
Click the link below to sign up for the class. Chapter Korean 1:1 class
You can receive class consultation through KakaoTalk. Chapter Korean KakaoTalk
Chapter Korean provides intermediate and advanced Korean language education. Study Korean with us.
Thank you for reading 'Overseas Korean language education market'