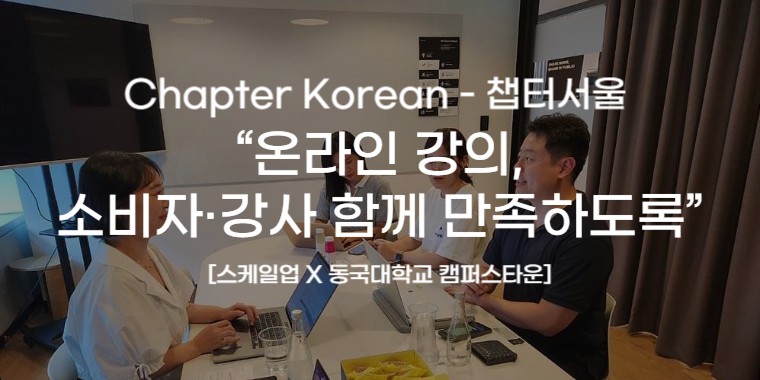 Online Korean Lessons, Chapter Korean
Chapter Seoul operates the Online Korean Lessons platform 'Chapter Korean'. Foreigners who wish to enter university or higher education institutions or seek employment in Korean companies visit Chapter Seoul.
Chapter Seoul's strengths are its systematic intermediate and advanced Korean language education programs and data learning management tools. Thanks to this, nearly seven out of ten foreigners (67%) who used Chapter Korean re-registered, and their level of satisfaction with education reached 94 points (4.7/5 points). Based on these achievements, Chapter Seoul will advance its mid- to high-level Korean language education program and develop into a platform that supplies Korean-style foreign talent to companies inside and outside Korea.
The Korean-style foreign talent that Chapter Seoul will create are practical people who have acquired Korean social trends, corporate culture, and business knowledge based on excellent foreign language skills. To create such talent, Chapter Seoul must increase the quantity and quality of advanced Korean language education programs. The platform must be well designed so that consumers can listen to lectures anywhere, online or offline. In other words, it is essential to create and distribute online lectures well.
"Online Korean lessons, instructors must be carefully selected and consumer demands must be addressed."
Kim Dae-gwang, CEO of Chapter Seoul: Chapter Seoul operates Chapter Korean, a platform that teaches intermediate and advanced level Korean online and offline. Most education is provided in the form of non-face-to-face or online video lectures, but I am curious about how to combine good content and fun. I would also like to hear industry-wide know-how, such as how to plan and type online lectures, and how to determine composition and price.
Sumin Jeong, Class 101 Lead: Class 101 creates online lectures step by step. First, we recruit creators, adjust the conditions, and then sign a contract. Next, we plan and organize the online lecture curriculum together, create content, and then release it. At this time, the content manager who recruits creators and the PD who creates online lecture content always work together. This is because people who create online lectures must gather together to discuss and communicate frequently to improve the quality of the course. Of course, it is essential to reflect consumer demands in online lectures.
It usually takes about 12 weeks to create one online course. It takes about 2 weeks to plan and organize the online lecture curriculum together, and about 10 weeks to create and supplement the content. It's important to get through the first two weeks well. It is a period in which stakeholders build consensus by combining the content of lectures that creators want to give and the topics that consumers want. If you spend this period faithfully, you can go through the remaining 10 weeks of scouting for locations to create content and creating scripts smoothly. Next, the stakeholders work together to create a product page that promotes the online course.
(article omitted)
Creators and platforms work together to improve the quality of online Korean lessons.
CEO Daegwang Kim: What criteria do you use to recruit creators who will create online lectures together? I am also curious about how to identify what kind of online lectures consumers want and how to reflect these demands in online lectures.
Lead Jeong Soo-min: The criteria for recruiting creators vary depending on the sector they are active in and the content they are trying to teach. Class 101 broadly divides online lectures into two types. The 'Creative' area includes hobbies and 'lifestyle' such as arts and crafts, the 'Kids' area that promotes knowledge of infants and toddlers and their caregivers, and the 'Professional' area that deals with finance and professional areas. The professional area includes 'Money', which specializes in financial investment, 'Career', which helps improve work skills, 'Language', which is foreign language education, and 'Signature' and 'Programming', which contain insights from industry greats.
Because trends in the creative field change quickly, timeliness is a key consideration when recruiting creators. The main focus of the professional area is expertise and in-depth content. Of course, we create a course roadmap and carefully manage it so that consumers can focus on listening to online lectures and gain a wealth of knowledge and experience, so that they can listen to all lectures until the end.
(article omitted)
Connect consumers and instructors to increase immersion and completion rate
CEO Dae-gwang Kim: I would also like to know the promotional strategies and channels for online lectures, and how to control the proportion of web and app consumers. I'm also curious about strategies to increase purchase conversion rates, re-registration rates, and completion rates, strategies to select consumer-recommended courses, and ways to reflect consumers' voices (VOC).
Lead Jeong Soo-min: It is best to decide on promotional strategies and channels for online lectures based on consumers' interests. The effective message is, 'Everyone can learn easily.' The message that Class 101 conveys is that 'the entry barrier to all learning must be low.' The message is to help anyone learn what they want to learn.
The proportion of web and app consumers can be determined differently depending on the nature of the online lecture. For example, online lectures in the hobby area are often designed so that you can follow them at home while watching the big screen. So it's better to make it web content. On the other hand, it is better to make online lectures on financial investment or self-development into app content that office workers mainly view while commuting to work.
(The article after this is omitted)
Table of Contents
Want to see the entire article?
출처 및 기사 전체 보기 (동아일보) : https://www.donga.com/news/It/article/all/20230816/120718853/1
Want to see previous articles? : Click the link.
---
[Links to other external articles]
IT동아 : https://it.donga.com/104193/
네이버 : https://n.news.naver.com/mnews/article/020/0003515152?sid=105
다음 : https://v.daum.net/v/20230816103012466
---
Do you want to study Korean more? Do you want to study TOPIK 2 writing more?
Click the link below to sign up for the class. Chapter Korean 1:1 class
You can receive class consultation through KakaoTalk. Chapter Korean KakaoTalk
Chapter Korean provides intermediate and advanced Korean language education. Study Korean with us.